How to build big calves, calf exercises, calve exercises
: "1 Leg Calve Raise
This exercise works the gastrocnemius muscles.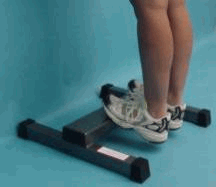 Note: This pic shows a 2 leg calve raise, you can also do them one leg at a time.
Stand on one leg with the ball of your foot on a calve block and your heels hanging off the edge of the block. You should hold onto something, such as a squat rack, to help you keep your balance.
Keep your knee straight during the entire movement. Slowly lower your heel until your calve muscle stretches down as far as possible. Hold the stretched position for a second and then rise up as high as you can on your tippy toes. Hold this position for a second to enhance the peak contraction in the calve muscle. Repeat for the desired number of reps. Repeat with the other leg."